FAQ
What is ipoint.to?
ipoint.to is a utility that allows users to shorten a long URL and share it.  ipoint.to makes it easier to include the link in an email, blog or social network site without taking up too much space.
For example, you can turn this long URL:
http://www.pointalliance.com/client/pointalliance/pai_lp4w_lnd_webstation.nsf/page/About+Us
into
http://ipoint.to/sagab9
Why Do We Ask For Your Email Address?
We ask for your email address so that we can email you the short URL you created.  This email address will also be used as your login when the Manage Your Links feature has been implemented.  See
http://ipoint.to/comingsoon.aspx
for more details.
How do I create an ipoint.to link?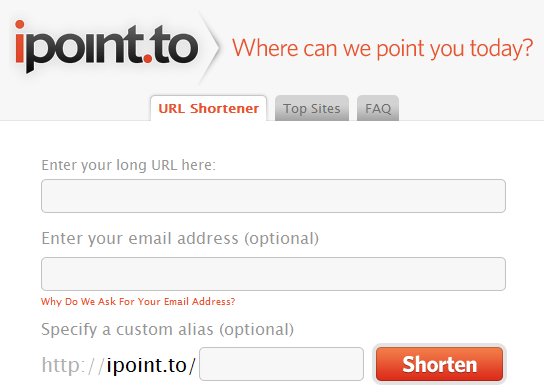 1) Enter your long URL.
2) Optionally enter your email address
3) Enter a 6 alpha/numeric shortcut or leave it blank to have the system generate a unique one
4) Click the Shorten button.
5) Copy and share your link.
How can I share an ipoint.to link?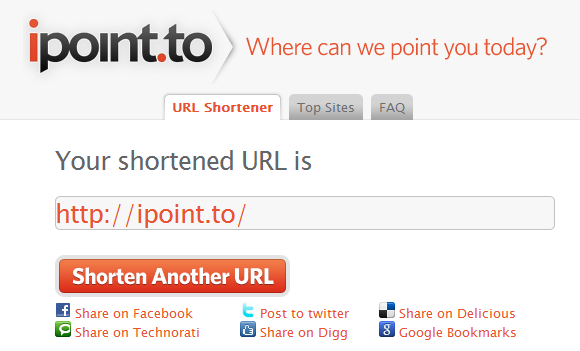 1) Right-click on Shortened URL field and select Copy Shortcut OR click on one of the Share On or Post to links after you have shortened your long URL.
If someone else shortens the same URL, so we both see the same number of clicks?
No.  Each user's URL is given a unique short link even if 2 or more users have the same long URL. The total number of clicks point to a single short link.
301 Redirect
When you shorten a link with ipoint.to, you are creating a redirect link from ipoint.to to the destination URL.  A 301 redirect is the most efficient and search engine friendly method for web page redirection, and is what ipoint.to uses.  ipoint.to does not recycle the short links that have been created and therefore the redirects are considered permanent.